Mrs. Puckett
Attributes
First Appearance
Chapter 1, Page 7
Age
Adult
Species
Human
Status
Deceased
Mrs. Puckett[1] died before the Puckett family moved to Mayview. It is not known how or when she died, although one could speculate that Mr. Puckett decided to move because of her death.
She has auburn hair, and brandishes multiple tattoos and several ear piercings. She is a smoker. She is skilled in welding and appears to be some form of sculpture artist.
Personality
Edit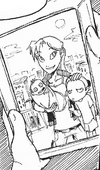 Max's mom has an erratic personality, and a bit carefree, similar to that of Max's dad.
References
Edit