Mr. Starchman
English teacher, very bouncy. Gives out stars as prizes. Trades prizes for stars.
Attributes
First Appearance
Chapter 1 Page 44
Age
Adult
Species
Human
Status
Alive
Mr. Starchman is a very happy-optimistic smiley of an English teacher in Mayview Middle School.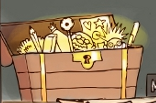 He uses an unusual method of education where he encourages the students to participate by dealing out gold stars for answering questions, which can be exchanged for various prizes.
He does not seem to like artists and does not understand the basics of CGI, believing Ed when he said that his and Isabel's spectral powers were such.
In an alt text, it's joked that Starchman Stars hold a value within the school of over $500. In another Alt text it is said they are edible.
Ad blocker interference detected!
Wikia is a free-to-use site that makes money from advertising. We have a modified experience for viewers using ad blockers

Wikia is not accessible if you've made further modifications. Remove the custom ad blocker rule(s) and the page will load as expected.