Flipflop
"H-hey, the name's Flipflop. N-nice to meet you, boss!"
Attributes
First Appearance
Chapter 5, Page 171
Age
23
Species
Spirit
Spectral Energy Color
 Red
Status
Tooled up in Umbrella
Flipflop is a turtle spirit currently aiding Isabel Guerra. Their design borrows heavily from an "urban youth" aesthetic, wearing a cardboard box for a shell and what seems to be a garbage bag for pants.
Paranatural
Edit
After losing the book containing her former partner, Isabel's grandfather offered her a red umbrella as a replacement tool. She accepted and brought her new tool with her to the school. This umbrella was the tool housing Flipflop, but the spirit only introduced itself to Isabel during her search for the body-stealing spirit Hijack by drawing her into a heightened state and its subway-themed spirit world.
Abilities
Edit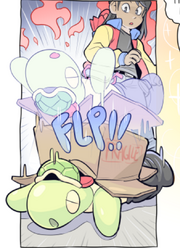 Flipflop's only demonstrated power as of yet is flipping objects, which it is first seen using on itself to prevent getting stuck on its back.
Ad blocker interference detected!
Wikia is a free-to-use site that makes money from advertising. We have a modified experience for viewers using ad blockers

Wikia is not accessible if you've made further modifications. Remove the custom ad blocker rule(s) and the page will load as expected.