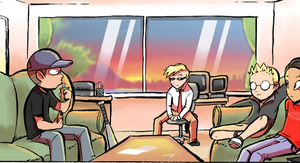 The Paranatural Activity Club, also known as the Activity Club, is a gathering of young spectrals held in Mayview Middle School. It is led by Richard Spender and helps with "the pacification of evil spirits" and with the education of younger and new spectrals to help them handle their powers. They meet in room 313 of the school, as seen by the number on Isaac's key.[1]
References
Edit
Pages in category "The Paranatural Activity Club"
The following 5 pages are in this category, out of 5 total.
Ad blocker interference detected!
Wikia is a free-to-use site that makes money from advertising. We have a modified experience for viewers using ad blockers

Wikia is not accessible if you've made further modifications. Remove the custom ad blocker rule(s) and the page will load as expected.